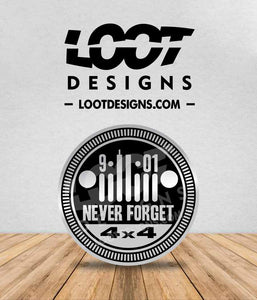 WHEN YOU BUY 2 OR MORE YOU GET A SPECIAL DISCOUNT

The September 11 attacks, also commonly referred to as 9/11 or 911, were a series of four coordinated terrorist attacks by the militant Islamic terrorist group al-Qaeda against the United States of America on the morning of Tuesday, September 11, 2001.
Get your 9•11•01 badges now and NEVER FORGET!
 Product Description: 2.3" circle, designed and Made in the USA. Made out of an Outdoor/UV rated high quality polymer material (super resistant automotive plastic) with a beautiful engraved top layer. Thickness and size is the same as the Trail badge.