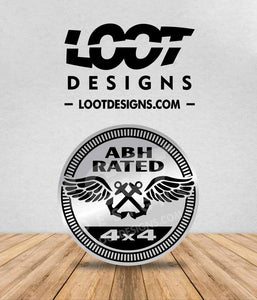 WHEN YOU BUY 2 OR MORE YOU GET A SPECIAL DISCOUNT

Aviation Boatswain's Mate – Aircraft Handling (ABH) Sailors supervise the movement of Naval aircraft and perform rescue duties when necessary. In this role, specific responsibilities may include: Assisting with the launch and recovery of aircraft. Spotting and securing aircraft and equipment! Thank you all for your service.
Get your ABH Rated badges now and represent like a true Army & Navy supporter!
 Product Description: 2.3" circle, designed and Made in the USA. Made out of an Outdoor/UV rated high quality polymer material (super resistant automotive plastic) with a beautiful engraved top layer. Thickness and size is the same as the Trail badge. Need more info about our badges? Please read our FAQ section