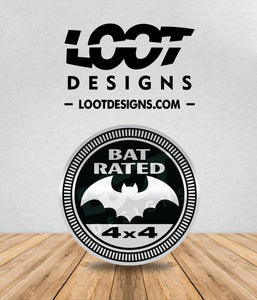 WHEN YOU BUY 2 OR MORE YOU GET A SPECIAL DISCOUNT

Bats are mammals of the order Chiroptera. With their forelimbs adapted as wings, they are the only mammals capable of true and sustained flight. Bats are more manoeuvrable than birds, flying with their very long spread-out digits covered with a thin membrane or patagium.
Get your Bat Rated badges now and represent like a true Bat Lover!
 Product Description: 2.3" circle, designed and Made in the USA. Made out of an Outdoor/UV rated high quality polymer material (super resistant automotive plastic) with a beautiful engraved top layer. Thickness and size is the same as the Trail badge. Need more info about our badges? Please read our FAQ section