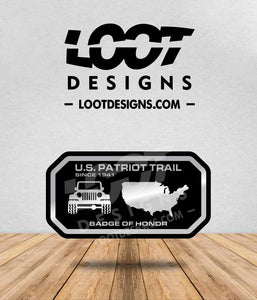 WHEN YOU BUY 2 OR MORE BADGES YOU GET A SPECIAL DISCOUNT
Dedicated to all those US Patriots out there that have been all over the USA!
Get your US Patriot Trail Honor Badges now and represent like a true Offroader
 

Product Description:

2.75" long by almost 1.5" tall custom shaped, designed and Made in the USA. Made out of an Outdoor/UV rated high quality polymer material (super resistant automotive plastic) with a beautiful engraved top layer. Thickness and size is the same as the Trail badge.