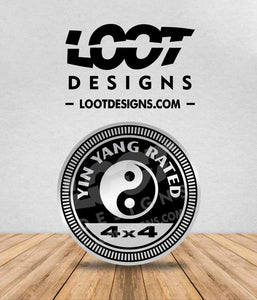 WHEN YOU BUY 2 OR MORE YOU GET A SPECIAL DISCOUNT

Yin and yang is a Chinese philosophical concept that describes opposite but interconnected forces. In Chinese cosmology, the universe creates itself out of a primary chaos of material energy, organized into the cycles of yin and yang and formed into objects and lives.
Get your Yin Yang Rated badges now and represent your energy!
 Product Description: 2.3" circle, designed and Made in the USA. Made out of an Outdoor/UV rated high quality polymer material (super resistant automotive plastic) with a beautiful engraved top layer. Thickness and size is the same as the Trail badge. Need more info about our badges? Please read our FAQ section